This week on our Youtube channel I posted another brand new watercolour tutorial – How to Paint Highland Cows. This is a loose watercolour painting of two cows from a herd of Highland Cattle – magnificent creatures with fluffy fringes and beautiful horns.  To watch the tutorial please visit https://www.youtube.com/watch?v=Mb0VbSTP7IY
We upload tutorials twice a week on Youtube so why not watch the videos and paint along with me?
Drawing highland cows
I always appreciate a bit of help when painting animals and highland cows are no different. To begin this painting I start by drawing in a loose shape with a pencil. This not only guides me but also lets me work on composition and remember you can always rub it out and start again (win-win!)
The outline of these cows are slightly boxy so your drawing may look rigid to begin with but we will be building outwards on this and the end result will be the beautiful shaggy cows with expressive strokes.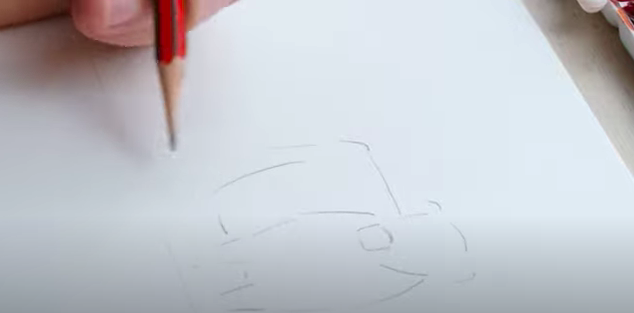 Using a large brush
For this particular painting, I wanted to show you how to use a larger brush. I use my size 4, pointed round paintbrush which is really one of my favourites to use. The brush is not only helpful when mixing up a large volume or paint but I love the way it creates thick strokes on the page which is perfect for this shaggy cow.
By drawing in the lines before painting I have a great place to start and in this tutorial, you will see how I angle my brush and use the larger brush to create angled strokes and loose style details such as the hoofs without having to use a smaller brush.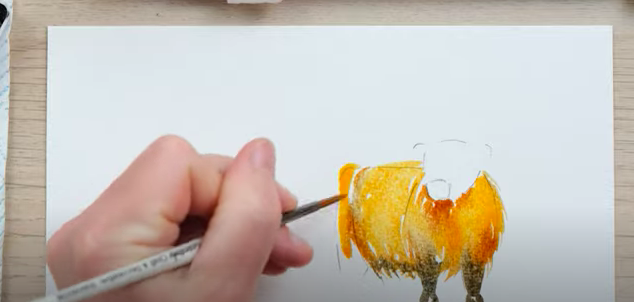 Finishing touches
Although I used a large brush for most of this tutorial, I also used my smaller paintbrush to add in some finer details. I like to use the colour 'Mars Black' for details like these but a diluted version so that it doesn't look completely out of place to the rest of the painting.
Lastly, I add a hint of green to replicate the ground and I think it makes such a difference to a painting when you add a tiny detail like this. It's a great way to practice using different colours and larger brushes as well.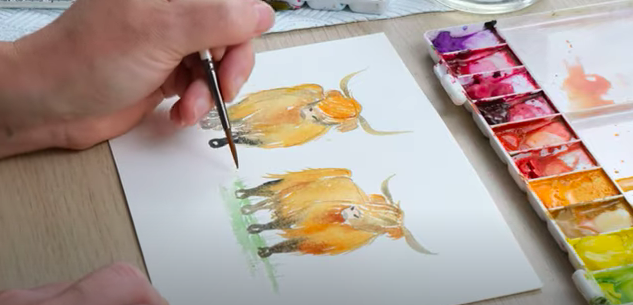 Let me know how you found this tutorial – How to Paint Highland Cows
. I'd love to see your take on these magnificent creatures, did you give it a go? Do you have any questions?
You can comment on our youtube video – https://www.youtube.com/watch?v=Mb0VbSTP7IY or follow us on Instagram – @dewintonpaperco. 
The materials used in this tutorial were:
Paint: Winsor and Newton Artist Quality – https://bit.ly/3dJHarN
Brushes: Pro Arte size 4 ,0, 4/0 – https://bit.ly/2LCtli6
Paper Daler Rowney Aquafine cold-pressed paper – https://bit.ly/3cmQSzn
You will also need some kitchen roll.
Thanks for taking the time to read about our tutorial this week and until next time, happy painting! 🐄