This week on our Youtube channel I posted a brand new video – Watercolour For Beginners: Pointed Round Watercolour Brush Product Review. This video is a product review of the most valuable brush in my kit; the pointed round size 4. It is a brush I rely on for both washes and fine detail. Here I put 6 brushes to the test and compare their features. To watch the tutorial please visit https://www.youtube.com/watch?v=Ins0JvMLG5A
(Prices are right as of June 2021)
Watercolour Brush Product Review
To test these brushes I painted a number of techniques including painting a tapered line. I also tested the brushes by painting simple flowers in my favourite loose watercolour style.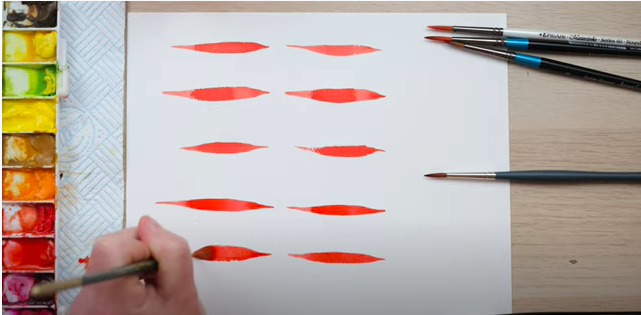 Pro Arte Masterstroke Series 60 £3.20
This is the brush that I began painting with and it's the one I use the most. I like the control I have with this brush and the amount of paint covering the bristles evenly. I can achieve a wonderful fine point with this brush and it works well when painting in the loose watercolour style I love!
Daler Rowney Aquafine Round £3.24
The bristles on this brush feel slightly longer and thicker than the masterstroke brush and this results in a larger paint covering. The handle is also slightly thicker which I think is nice as you have more to hold onto. As the bristles are larger it is much harder to add detail which I would struggle with.
Daler Rowney Aquafine Sable Round £5.56
The bristles on this brush are shorter than the previous brushes and it has a finer point. The bristles are much softer and even though it is a size 4 as well it didn't cover the page as well as the others. As the bristles are real sable it can be harder to paint in the loose watercolour style and I prefer the synthetic brush that springs back. I think this brush needs slightly more effort but nevertheless, it's a great brush!
Winsor and Newton Professional Watercolour Synthetic Sable Round £7.20
The shape of this brush is slightly different to the others, it moulds to your hand and it has a longer handle which some people prefer. This brush is lightweight and the coverage is large and smooth. The brush doesn't fan out as much as the others but it does make a fine point which I love!
Pro Arte Renaissance Sable Brush Round Series RS £7.80
Another long handle brush with a broad tip resulted in lovely coverage on the page. It has a great softness to it but it's not precise enough for me. When testing this brush whilst painting the flower, I was surprised with the finish, but the brush's softness meant it didn't give me sharp details.
Winsor and Newton Series 7 Kolinsky Sable Watercolour Brush £21.56
This is a very special brush, it has a lot of bristles and a broad tip which is great but I found it hard to make a fine tip using it. It deposits paint in a lovely manner but I think I would have to keep working on my painting when using this brush. I struggled to get sharp details with this brush and I couldn't get as much control as the other brushes.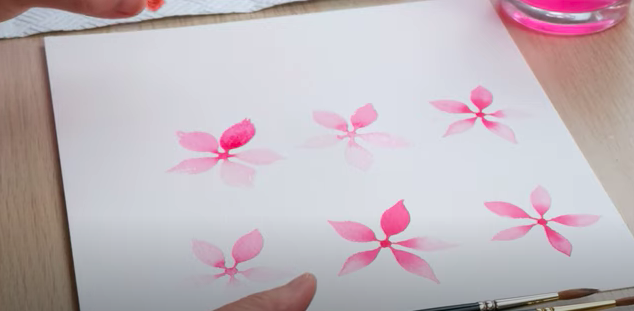 Summary of  My Watercolour Brush Product Review
All the brushes in this video are the same size but they all produce different results. I like all of them but some are better than others. I'd love to know what your favourite brushes are to use or if you have any of the brushes I used in this video so don't forget to comment on our youtube video and let me know what you think.
I hope you enjoyed my brush review and until next time, happy painting!