This week on our Youtube channel I posted another floral watercolour tutorial –  How to Paint Watercolour Geraniums. Potted geraniums are my favourite to paint as they are small and cute. I love using these types of illustrations for a bullet journal or birthday cards and I hope you enjoy watching this tutorial as much as I had fun creating it. To watch the tutorial please visit https://www.youtube.com/watch?v=wSsUm9yVnS8
We upload tutorials twice a week on Youtube so why not grab your paints and paint along with me after reading these tips and tricks below?
Painting Watercolour Geraniums
As my geraniums are potted for this tutorial I always start my piece by carefully sketching in the pots with a pencil. This helps to guide me further on down the line and helps with the composition of the final piece.
I love to paint miniature objects and geraniums are no exception, painting them in this small style means they are painted in a simple but modern way.
I find painting in the stems first helps me to place the rest of the plant later on and sets up the composition of the piece early on. Using a small brush I paint the stems delicately but with purposeful shapes.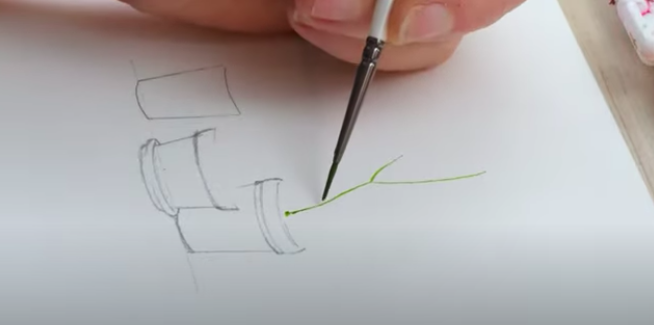 Painting Minature Flowers
As this piece is a miniature style I wanted to explain how I paint the tiny flowers. I like to use my 4/0 brush from the Pro Arte size collection – https://bit.ly/2LCtli6. 
My top tip for panting miniature petals is to create a teardrop shape for each petal to begin with but leave some unpainted space in between. This is the basis for the flowers and once this has dried we will go back and add some more detail.
To bring the flowers to life I want to add some colouring to the petals. I do this by mixing up a shade darker than used before and adding a tiny curve to some of the petals to create a shadow (don't do it to all of them!)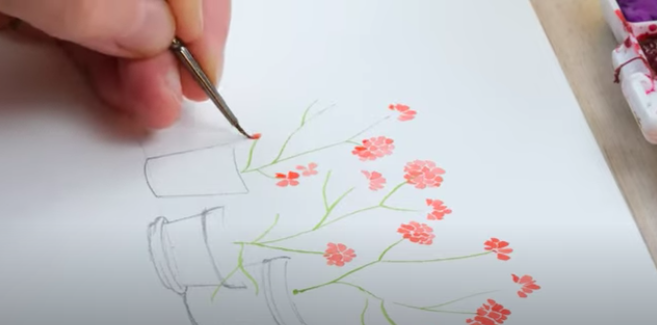 Painting Minature Leaves
I always find painting miniature leaves so much fun, the shape reminds me of a frilly lily pad and it allows me to create exciting shapes. I start with the frilly outline and then I suggest you work fairly fast to fill in the space to get the perfect blend.
To add details to my leaves I use a darker green. I tend to draw a centre point and some stripes to make them look as realistic as possible.
I like to paint my leaves in all directions and this fun painting will give you the chance to practice these techniques.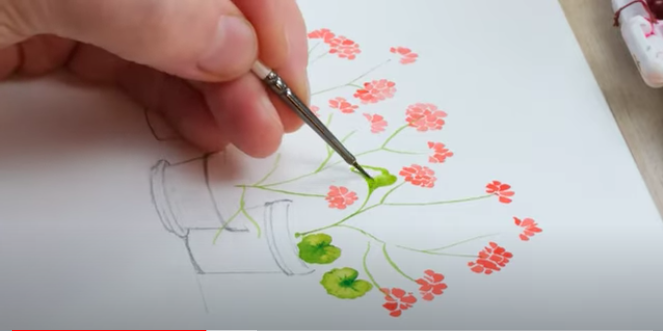 The final step in this tutorial is the pots themselves. I love terracotta pots and for this painting I wanted them to look rustic. Start by filling in the pots with a dilute colour, being careful to not disturb the leaves too much. You can then start filling in the pots by starting at the edges and building up to give the pots the right texture.
Let me know how you found this tutorial – How to Paint Watercolour Geraniums. I'd love to see your take on them, did you give it a go? Do you have any questions? You can comment on our youtube video – https://www.youtube.com/watch?v=Fxrgb4SIPmQ or follow us on Instagram – @dewintonpaperco. 
The materials I used in this tutorial were:
Paint: Winsor and Newton Artist Quality – https://bit.ly/3dJHarN
Brushes: Pro Arte size 4/0, 2/0, 2 – https://bit.ly/2LCtli6
Paper Daler Rowney Aquafine cold-pressed paper – https://bit.ly/3cmQSzn
You will also need some kitchen roll.
Thanks for taking the time to read about our tutorial this week and until next time, happy painting!