This week on our Youtube channel I posted a brand new watercolour tutorial – How to paint Sunflowers (and make a greetings card!) We have father's day coming up in the UK and this floral combination looks like a family portrait so it would be perfect for a greetings card.  To watch the tutorial please visit https://www.youtube.com/watch?v=YKG9RLbBKbs
We upload tutorials twice a week on Youtube so why not watch the videos and paint along with me?
Drawing Sunflowers
Most of my usual tutorials are based on the loose watercolour style and this is no different but as it is a greetings card I wanted to start the painting by drawing in some very particular lines and shapes. I draw them using my ruler to make it even more precise and don't forget to rub the pencil out afterwards!
I wanted the sunflowers to look like a family portrait so I started by drawing stems in different heights and then added in the middle seed heads and plant pots. The pencil drawing gave me the perfect base to start painting.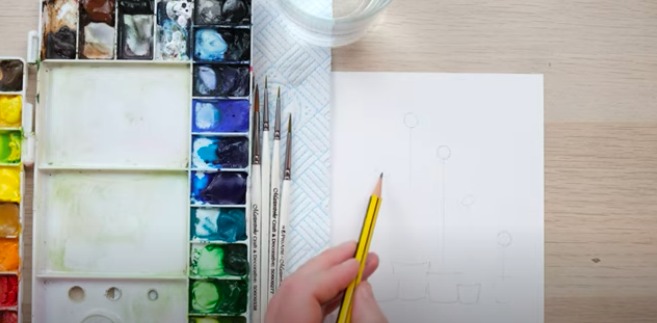 Painting sunflowers
I love to paint Sunflowers. They are such a bright and beautiful flower, and I think they instantly make any image instantly happier. The bright yellow is such a warm colour that denotes happiness and I just love using the bright Cadmium Yellow from my palette for these petals.
Painting the sunflowers is a step by step process and you can follow it closely whilst watching the tutorial. First I paint in the yellow petals, using a small brush and making sure they all flow from the centre point and overlap the circle I drew earlier on. I like to paint the flowers in different angles which can be a bit trickier but why not give it a try?
After the first layer of petals, I start to paint the stems in a vibrant green. I like to paint my stems by using a curl first and then the stem, but if this doesn't work for you, you can do it the other way around. I like to create a heart-shaped leaf which is achieved by a mirrored stroke by using the belly of the brush.
To add another layer to my petals I love to use Cadmium Orange in between the previous petals to make them stand out. I also like to use a smaller brush just to make sure the petals stay individual.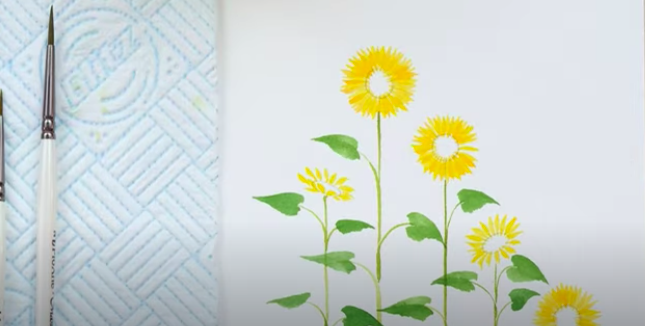 Painting flowerpots
Terracotta pots are my favourite and it's always such a pleasure to paint them. Have you checked out my Watercolour Geranium tutorial with flowerpots? You can read the blog post here. Flowerpots come in all shapes and sizes and I like to add rims or saucers to mix it up.
I like to paint my pots in a loose style, but build up the colour by using water and darker colours. This always adds a lovely shadow effect and gives them a realistic texture.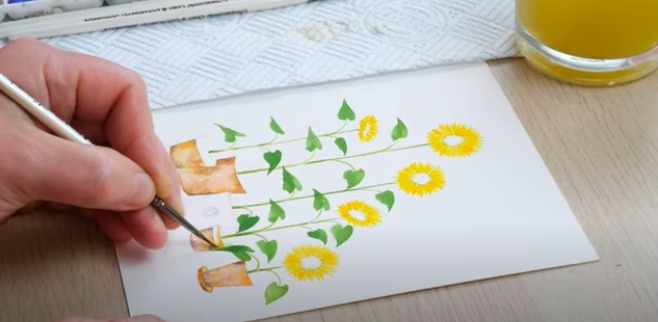 Making the greetings card
If you want to use this design as a greetings card, I suggest that you measure your watercolour paper out first and mark the centre point on the back. Once your painting is completely dry you can score the central line with the blunt edge of your scalpal to help you get a crisp bend in the card. Who will you be sending this card to?
Let me know how you found this tutorial – How to Paint Sunflowers. I'd love to see your take on them, did you give it a go? Do you have any questions? You can comment on our youtube video – https://www.youtube.com/watch?v=YKG9RLbBKbs or follow us on Instagram – @dewintonpaperco. 
The materials I used in this tutorial were:
Paint: Winsor and Newton Artist Quality – https://bit.ly/3dJHarN
Brushes: Pro Arte size 3/0, 2/0, 2 – https://bit.ly/2LCtli6
Paper Daler Rowney Aquafine cold-pressed paper – https://bit.ly/3cmQSzn
You will also need some kitchen roll.
Thanks for taking the time to read about our tutorial this week and until next time, happy painting! 🌻