This week on our Youtube channel I posted a brand new watercolour tutorial – How to Paint Simple Summer Berries. This is a really fun and easy tutorial for all the family and I have painted these berries in a loose style and in a lovely pattern on the page.   To watch the tutorial please visit https://www.youtube.com/watch?v=rPC2SXJxY3A
We upload tutorials twice a week on Youtube so why not watch the videos and paint along with me?
Creating a pattern
When painting in a loose watercolour style, I tend to loosely paint in the larger items to create a pattern. For this painting, I start with the large strawberries and finish with the smaller berries to fill up the page.
The trick to painting a pattern is to make sure that it can be viewed from all angles which means you place your items or fruit in this case in different positions on the page. It's also really important that you turn your page as you paint to make sure that you are happy with the composition.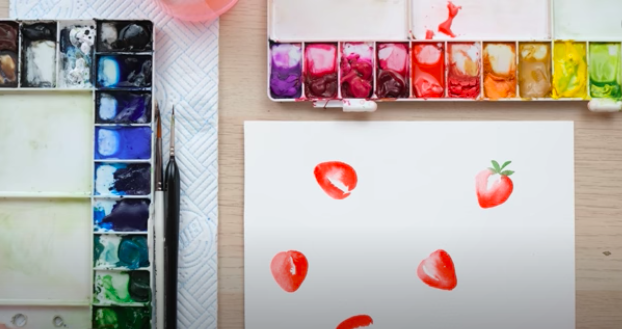 Painting simple summer berries
I like to use a medium-size brush to paint berries and in the tutorial, you will learn how to use the belly of the brush to create the round shapes. I like to use the loose style because you can leave unpainted space which creates a realistic shine.
To paint the stems and stalks for the berries I use simple lines and oval shapes which can all be slightly different in shape.
For the smaller berries, I use a smaller brush but in the same loose watercolour style.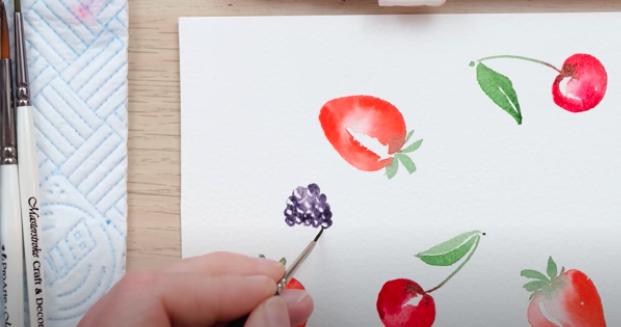 Let me know how you found this tutorial – How to Paint Simple Summer Berries. I'd love to see your take on painting this pattern, did you give it a go? Do you have any questions?
You can comment on our youtube video – https://www.youtube.com/watch?v=rPC2SXJxY3A or follow us on Instagram – @dewintonpaperco. 
The materials used in this tutorial were:
Paint: Winsor and Newton Artist Quality – https://bit.ly/3dJHarN
Brushes: Pro Arte size 3/0, 2 – https://bit.ly/2LCtli6
Paper Daler Rowney Aquafine cold-pressed paper – https://bit.ly/3cmQSzn
You will also need some kitchen roll.
Thanks for taking the time to read about our tutorial this week and until next time, happy painting!