This week on our Youtube channel I posted another fruit-themed watercolour tutorial – How to paint Simple Citrus Fruit. It is another really fun and easy tutorial for all the family if you'd like to also catch up with my berries tutorial you can read all about it here.   To watch the tutorial on how to paint citrus fruit please visit https://www.youtube.com/watch?v=ntoa5CQrJ_8
We upload tutorials twice a week on Youtube so why not grab your watercolours and paint along with me?
Painting Citrus Fruit
I love to paint citrus fruit, they are so bright and vibrant and make me think of summer! The nice thing about this particular painting is that we can use different shapes and colours to build up a beautiful pattern.
I like to use a combination of half slices and full slices to mix it up. As you know citrus fruit have very detailed 'pulp' inside so my top tip for painting this effect is to start by painting the edge of the slice and then using a wet brush move the paint down towards the other edge to create the lined effect without having to add in too much detail first. You can then use a smaller brush to add more concentrated colour and a few details.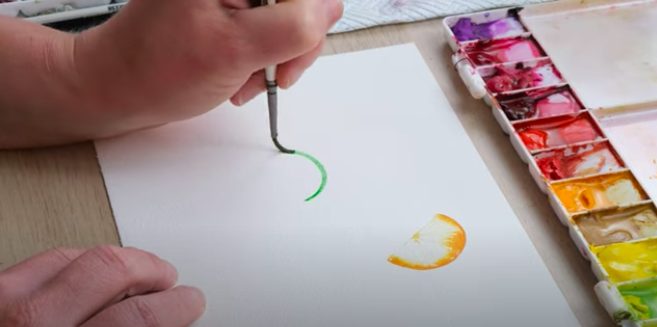 Composition
For this painting, I like to create a pattern using different sized slices of fruit but as you start to fill up your page you will begin to run out of space. My solution for this problem is to add single segments of fruit. These will not only fill the space but also give you a different dimension to the page as they are triangular and not circular.
I like to describe these small segments as painting a slice of pizza, and they are probably my favourite kind of segment to paint! You use the same technique as the slices for these segments and after you have painting the outline, use a wet brush and loop the paint up and down the segment to create the pulp effect before adding detail!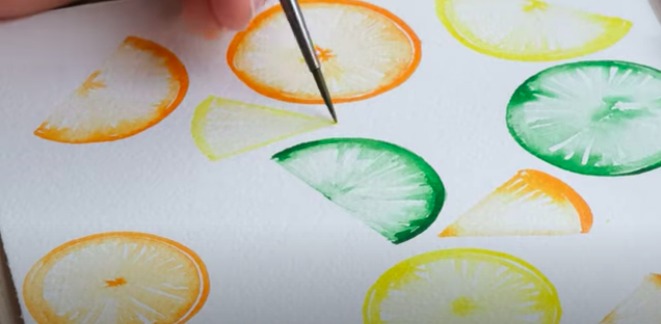 Let me know how you found this tutorial – How to paint Simple Citrus Fruit. I'd love to see your take on painting these slices, did you give it a go? Do you have any questions?
You can comment on our youtube video – https://www.youtube.com/watch?v=ntoa5CQrJ_8 or follow us on Instagram – @dewintonpaperco. 
The materials used in this tutorial were:
Paint: Winsor and Newton Artist Quality – https://bit.ly/3dJHarN
Brushes: Pro Arte size 3/0 , 2 – https://bit.ly/2LCtli6
Paper Daler Rowney Aquafine cold-pressed paper – https://bit.ly/3cmQSzn
You will also need some kitchen roll.
Thanks for taking the time to read about our tutorial this week and until next time, happy painting!🍊