This week on our Youtube channel I posted another floral watercolour tutorial –  How to Paint Loose Watercolour Lotus Flowers. Lotus flowers are one of my favourite flowers to paint as they sit nicely above the water and I hope you enjoy watching this tutorial as much as I had fun creating it. To watch the tutorial please visit https://www.youtube.com/watch?v=Fxrgb4SIPmQ
We upload tutorials twice a week on Youtube and we previously posted a tutorial on painting water lilies which will set you up perfectly for this lotus flower tutorial so why not grab your paints and paint along with me after reading these tips and tricks below?
Painting Lotus Flowers
To start this painting I like to draw in a guide lightly with a pencil. This helps me balance the flowers and help with scale. Lotus flowers have beautiful open petals so I start by drawing the stems and seed head in various sizes onto the paper. I then follow up with the smaller closed buds to add a different variant to the composition.
My top tip for painting this style of composition is to think about where you are going to start and how the eye will see the final painting – it really helps further down the line!
Once I have composed the basics I start by adding loose oval petals onto each seed head and work my way around each flower to create the basic shape by anchoring each petal to the middle.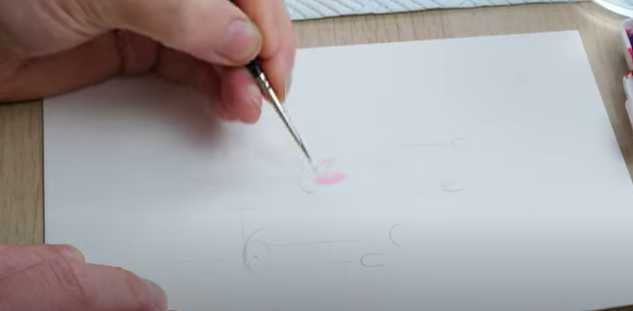 Painting leaves
Lotus flower leaves look like a combination of rhubarb leaves and lily pads and they are a beautiful green. My top tip for painting the leaves is to mix up various greens to use so that you can blend and mix them. The shape of the leaves are loose and you can create wonderful shapes by painting the edge of each leaf and working inwards.
By using different green you will create ridges to give them depth. I love this way of painting as it looks much more realistic and pretty.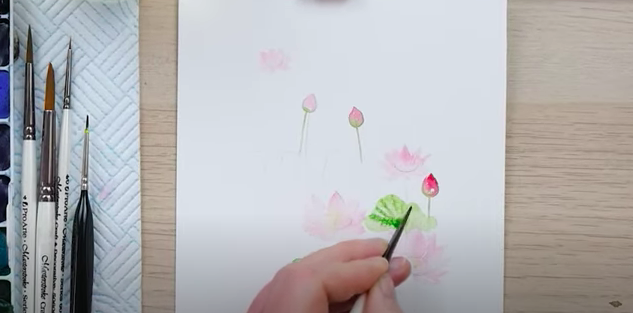 Painting Water
No lotus flower painting would be complete without the water and I think it really completes this piece perfectly. I like to use a mixture of blues, greens and yellows with my size 2 brush (https://bit.ly/2LCtli6​) to create the water texture.
Starting very delicately I paint horizontal lines around the flowers and leaves, leaving unpainted space to give a realistic finish.
Don't forget to think about the composition of your painting when you add water and add height and depth as you fill the pond up.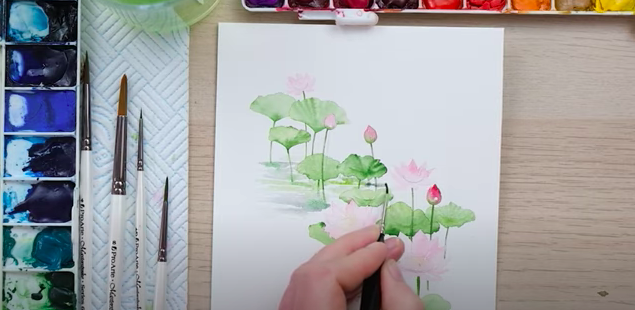 Let me know how you found this tutorial – How to Paint Loose Watercolour Lotus Flowers. I'd love to see your take on them, did you give it a go? Do you have any questions? You can comment on our youtube video – https://www.youtube.com/watch?v=Fxrgb4SIPmQ or follow us on Instagram – @dewintonpaperco. 
The materials I used in this tutorial were:
Paint: Winsor and Newton Artist Quality – https://bit.ly/3dJHarN​
Brushes: Pro Arte size 2, 4, 6 – https://bit.ly/2LCtli6​
Brushes: Pro Arte MP series miniature size 2/0, https://www.jacksonsart.com/pro-arte-…​
Paper Daler Rowney Aquafine cold-pressed paper – https://bit.ly/3cmQSzn​
You will also need a pencil, a rubber and some kitchen roll.
Thanks for taking the time to read about our tutorial this week about lotus flowers and until next time, happy painting!