It's officially British Summertime in the UK and we are all welcoming it with open arms and a positive mentality. This year Easter falls on the first week of April and to celebrate the holiday I posted a fun tutorial over on our Youtube channel focusing on how to paint Easter eggs and chicks – https://www.youtube.com/watch?v=cJSSywARB28
Don't forget we upload tutorials twice a week on Youtube so why not watch the videos and paint along with me? This one is perfect for the kids to join in too and a great activity for the bank holiday.
Easter
When I think of Easter time I think of spring colours, speckled eggs and fun which is why I wanted to paint a couple of cute chicks and eggs. I wanted to use bright colours so think yellow, oranges and greens to create the perfect summer scene.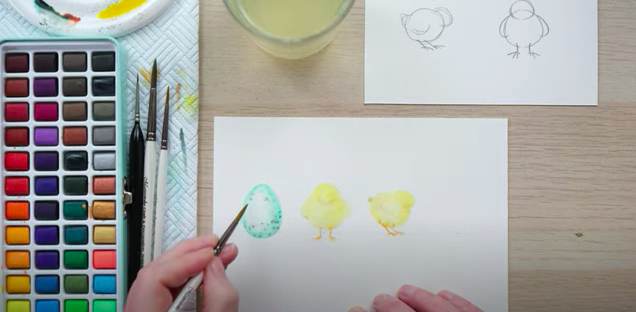 Top Tips for Painting Easter Eggs and Chicks
When painting these sweet little chicks and eggs you don't necessarily need to use a pencil to draw the outline but in my tutorial, you will see I have drawn out the shapes on a seperate piece of paper to show you the ideal form. I find it useful to do this and you might want to do the same so you can refer back to your ideal shape when painting.
I soften the edges of the chick to make them look fluffy by simply fluffing them, almost like a frill and then to add depth I like to add a light brown around the features which really helps to shape the bird.
Although the tutorial is for a loose watercolour painting it is still important to add details to create a more realistic pose, for example, add the legs with my smaller brush.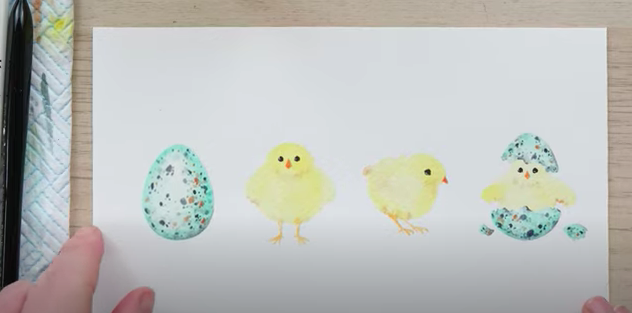 Watercolours
During this tutorial, I used a new set of watercolours sent to me by Artistro – 48 color Watercolor paint set –  https://artistro.com/?ref=wva_voduwwfm​.  The set includes a handy colour chart, a swatch sheet, a sponge, eraser, brush, pencil and watercolour pen! If you like what you see, use my affiliate link above and use the code HARRIETDEWINTON to get 10% off your purchase. The colours are very similar to what I'm used to but they also have fluorescent and metallics which I am a big fan of! I even used metallic in this tutorial and you can see how wonderful it looks.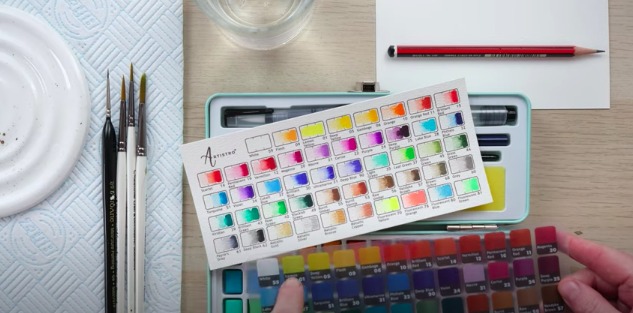 We hope you have a wonderful Easter, hopefully in the sunshine and with lots of family fun!
Let me know how you found this tutorial – How to paint Easter Eggs and Chicks 🐣. Did this inspire you to get your paints out for the bank holiday? Do you have any questions? You can comment on our youtube video – https://www.youtube.com/watch?v=cJSSywARB28 or follow us on Instagram – @dewintonpaperco. 
The materials I used in this tutorial were:
Artistro Premium Quality watercolors – https://artistro.com/?ref=wva_voduwwfm​
Pro Arte Masterstroke series 60 size 2/0, 4, 6 – https://bit.ly/2LCtli6​
Paper Daler Rowney Aquafine cold-pressed paper – https://bit.ly/3cmQSzn​
You will also need a pencil, a rubber and some kitchen roll.