This week on our Youtube channel I posted a brand new tutorial – How to Paint a Watercolour Hibiscus.
This is a great colour blending exercise for the petals and after this tutorial, I definitely think it's a flower that really lends itself to watercolour painting.   To watch the tutorial please visit https://www.youtube.com/watch?v=ZlhhJ1sXO4k
We upload videos twice a week on Youtube so why not watch them and paint along with me?
Colour Blending Hibiscus Petals
One of the main reasons I enjoyed painting the hibiscus is because of the colour blending. The hibiscus petals are frilly and to get this effect it's all about blending the paint!
Before I started this painting I drew in the stem and buds of the flower in pencil and this helped me to immediately work out where the petals needed to sit. The colours of the hibiscus are tropical and vibrant but instead of painting the colour thick and concentrated I start by using a dilute pink for the large petals and I will build on them.
To add the frilly edge I added a slight touch of orange over the wet pink paint and it blended together wonderfully to create a realistic frill.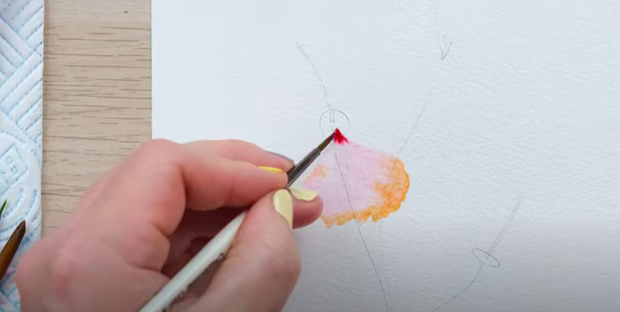 Painting Hibiscus leaves
My top tip for painting leaves is to mix up a selection of greens and blues in your pallette so that you have enough choice. I might even add in a brown to cause a shadow on the leaves!
I also like to use different size brushes when painting the stem and leaves so that I can get the full effect of the large leaves but also the small stems and detail.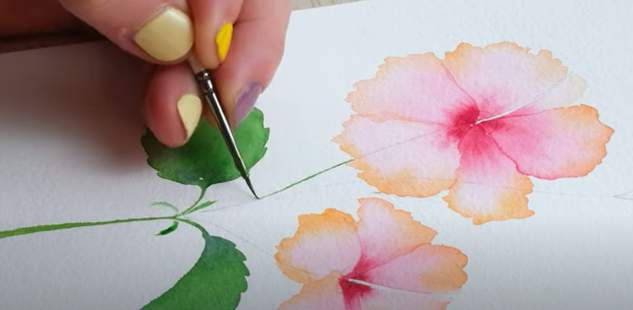 Adding detail to your hibiscus
Hibiscus flowers are known for their brightly coloured petals alongside their stamen which is usually a beuatiful bright yellow. When I started the painting I made sure to leave unpainted space for the stamen and this allowed me to create a concentrated, vibrant area of the painting.
To add more detail to the rest of the flower I use my smallest brush and darker colours and add in finer lines whilst also blending by using just water on my brush. I love to use layers to build up a painting and I am very fond of adding texture to my paintings! If you want some more practice painting flowers then check out my blog posts on how to paint a clematis.
Let me know how you found this tutorial – How to Paint a Watercolour Hibiscus. I'd love to see your take on painting such a colourful flower and how the blending worked for you, did you give it a go? Do you have any questions?
You can comment on our youtube video – https://www.youtube.com/watch?v=ZlhhJ1sXO4k or follow us on Instagram – @dewintonpaperco. 
The materials used in this tutorial were:
– Paint: Winsor and Newton Artist Quality – https://bit.ly/3dJHarN
– Brushes: Pro Arte series 60 size 8, 2, 4/0 – https://bit.ly/2LCtli6
– Paper Winsor and Newton professional cold pressed Block https://www.amazon.co.uk/Winsor-Newto…
-You will also need some kitchen roll.
Thanks for taking the time to read about our tutorial this week and until next time, happy painting!