This week on our Youtube channel I posted a new (very exciting) watercolour tutorial – How to Paint Metallic Modern Botanicals. Dried flowers and botanicals seem to be a very popular interior trend right now and instead of painting real flowers, I thought it would be nice to give these a go. To watch the tutorial please visit https://www.youtube.com/watch?v=xXajTm-G7X0.
We upload tutorials twice a week on Youtube and this week the artwork will also be available to buy as a special print so you can paint along with me or buy a metallic watercolour piece for your home.
Uk customers can purchase the print here – https://dewintonpaperco.com/product/metallic-watercolour-floral-print/
International Customers can purchase the print here – https://etsy.me/3deITpG​
Your work
I don't know about you but how often do you paint a gorgeous piece and it simply stays in your sketchbook? I urge you to be brave and use this tutorial to create something you are proud of and want to hang on your wall.
If this tutorial inspires you then I'd also love to see your artwork up in your homes, or why not gift to a friend and brighten up their day?
Dried Flowers and Botanicals
If you've looked at Pinterest recently or opened any interiors magazine you will have no doubt seen the dried flower trend, they are everywhere! They are a nice change to real flowers and of course last longer but they are also great to paint as the dried elements give you a chance to create a textured painting with depth and layers.
When painting dried flowers I don't necessarily think you need to copy them exactly and I like to add my own imagination into my painting, using the dried flowers as a reference.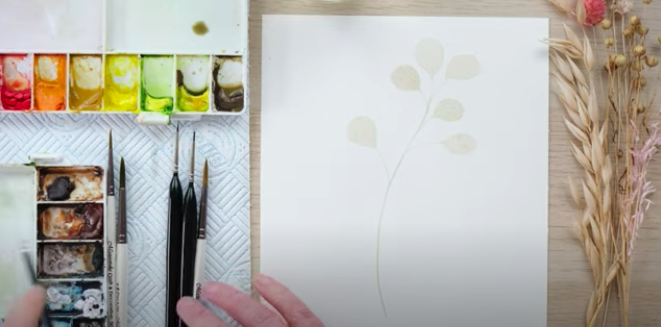 Botanical Colours
Dried flowers are most recognisable by their beige, earthy or cream colouring with hints of pink sometimes and my top tip on making these colours right for you is to use a piece of scrap paper. You can mix watercolours to create wonderful colours and for this tutorial, I would recommend you try them out as you go on the scrap paper.
Another thing to remember when mixing colours is to make sure you have enough colour. Don't be afraid to keep adding colours, they may change momentarily but as you keep adding they will revert back to the perfect shade.
In this tutorial you can see that I have different colours for each layer, making sure each layer is dry before painting over the top to create wonderful textures. I started with diluted colours building up to bold and beautiful!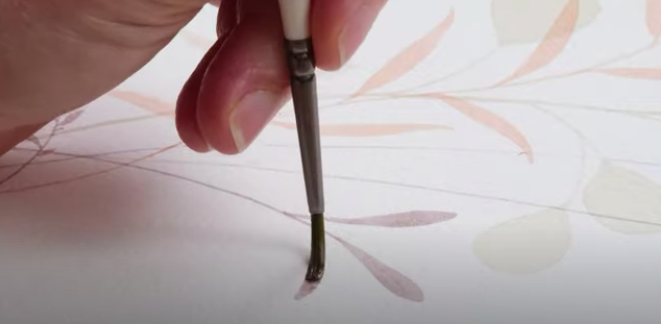 Metallic Paint
It's no secret that I love using metallic watercolours and for this tutorial, I used this Finetec palette – https://bit.ly/3rEXeAW​. To make sure the metallics are strong and vibrant you must make sure you add a lot of water to the paints before you start. 
Metallic paints always look better once they have dried so at first if you are disappointed then don't worry at all, the shimmer will come! I always find metallics great for adding details as such as gold seeds or stems.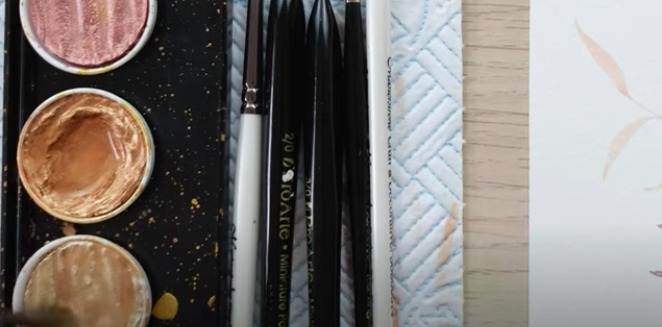 Let me know how you found this tutorial – How to Paint Metallic Modern Botanicals. I'd love to see your metallic dried flowers, how did you find the tutuorial?  Do you have any questions? You can comment on our youtube video – https://www.youtube.com/watch?v=xXajTm-G7X0 or follow us on Instagram – @dewintonpaperco. 
The materials I used in this tutorial were:
Paint: Winsor and Newton Artist Quality – https://bit.ly/3dJHarN​
Metallic Paint: Finetec palette – https://bit.ly/3rEXeAW​
Brushes: Pro Arte Masterstroke series 60 size 2/0, 2, 6 – https://bit.ly/2LCtli6​
Brushes: Prolene Riggers Series 103 Brush – https://bit.ly/3kmq6vX​
Paper Daler Rowney Aquafine cold-pressed paper – https://bit.ly/3cmQSzn​
You will also need a pencil, a rubber and some kitchen roll.
Thanks for taking the time to read about our tutorial this week, happy painting!