This week on our Youtube channel I posted a beginner tutorial –  Loose Watercolour Spring Flowers. If you follow my blog and youtube already you will see I love to paint flowers so I wanted to create this tutorial on how to paint my favourites in a loose watercolour technique.  To watch the tutorial please visit https://www.youtube.com/watch?v=Q9LkCUF4tZM
If you are a beginner then you'll be pleased to know that we upload tutorials twice a week on Youtube so why not grab your paints and try this one with me?
Brush sizes for loose watercolour paintings
If you are new to loose watercolour painting, I suggest you start painting with a small brush as you have slightly more control and can use either the belly of the brush or tip to create wonderful shapes. I like to use a smaller brush as it also gives a realistic/characterful feel and they are very adaptable to your style.
I love to use a size 2 brush – Pro Arte size 4/0, 2, 4, – https://bit.ly/2LCtli6​
Painting in a loose watercolour style might look easy and it is very popular but I think it is harder than it seems sometimes which is why a composition piece can help you to try different shapes and colours first.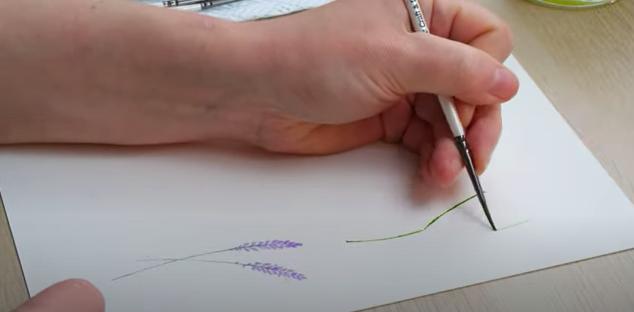 Painting loose watercolours as a beginner
As mentioned previously I love painting in the loose watercolour style and even though it is loose I think it is so beautiful! This style is great for floral paintings as they don't have to be symmetrical and perfect so if you apply too much pressure (or too little) the petals don't look irregular.
A simple way to explain loose watercolour painting is that you use single brush strokes to create beautiful shapes that come together to form the picture and in this case a flower.
You can simply add detail in the same style by waiting for the page to dry and then adding additional strokes – easy right?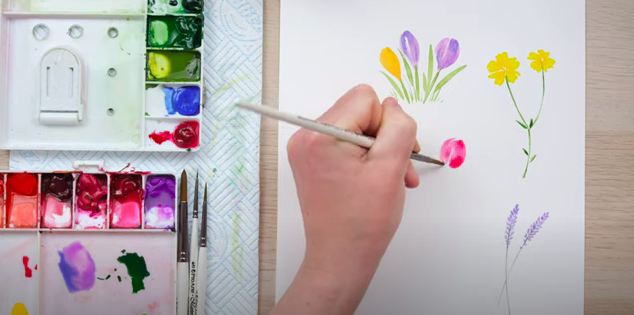 If you enjoyed this tutorial then I will be releasing a new video every Friday on our youtube channel called 'The Watercolour Quickfix' They are 5 minutes long and I will be covering a wide variety of subjects.
Let me know how you found this tutorial – Beginner Tutorial: Loose Watercolour Spring Flowers. I'd love to see your take on them, did you give it a go? Do you have any questions? You can comment on our youtube video – https://www.youtube.com/watch?v=Q9LkCUF4tZM or follow us on Instagram – @dewintonpaperco. 
The materials I used in this tutorial were:
Paint: Winsor and Newton Artist Quality – https://bit.ly/3dJHarN​
Brushes: Pro Arte size 4/0, 2, 4, – https://bit.ly/2LCtli6​
Paper Daler Rowney Aquafine cold-pressed paper – https://bit.ly/3cmQSzn​
You will also need some kitchen roll.
Thanks for taking the time to read about our beginner tutorial this week and until next time, happy painting!