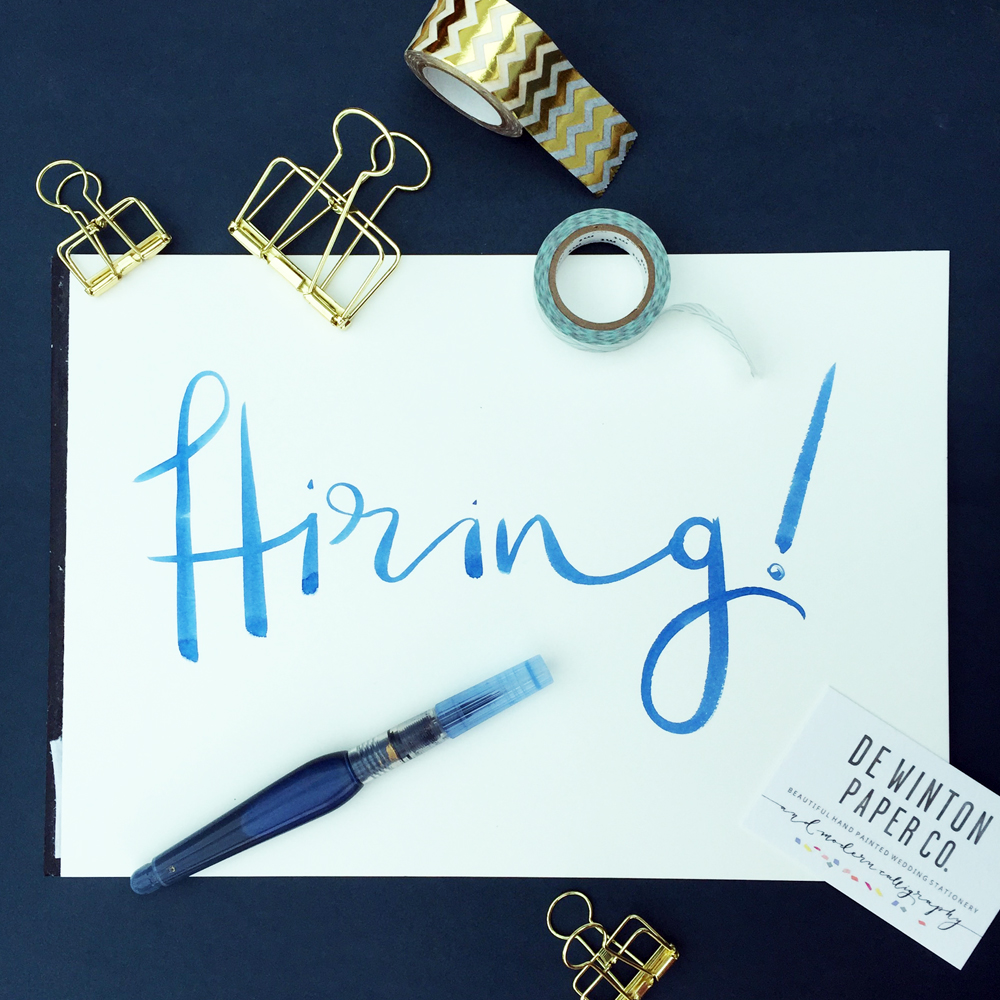 Since launching in January 2015, I have had an amazing, exciting and very very busy time of it, working with countless couples and developing the line of products.
I am now in need of a fabulous freelancer to come on board for a day or two a week to take charge of de Winton Paper co's Marketing and PR.
Currently it is just me juggling the whole lot, so the person I hire will be pro-active, responsible and an excellent communicator, working closely with me. I am hoping for a conscientious, kind and warm person to fit in. Please note this is not a design role – I need someone who is commercially minded, self driven and has a natural ability to promote the business ethos and products.
I am having a new website built at the moment due to launch on September 1st. I am also exhibiting at the London Excel Centre in September – by far the company's biggest wedding fair to date – so I feel now is the time to work with someone to create some momentum and buzz.
JOB DESCRIPTION FOR DE WINTON PAPER CO. MARKETING MANAGER
I am looking for the hours equivalent of minimum 1 day a week (maximum 2 days a week) initially.
The role involves:
Social media: setting a schedule and bringing innovation to how we use social media to interact with our future clients and wedding community.
Writing one blog post weekly
Writing and submitting monthly press releases to Wedding and Stationery blogs/magazines
Setting up a newsletter
Forming an annual marketing strategy and managing the marketing budget
Developing our workshops: finding host venues and negotiating a deal with them.
Sometimes assisting with hosting our workshops and wedding fairs, greeting our guests, preparing refreshments, and clearing up afterwards with Harriet. This involves the odd weekend or evening. All extra hours for these are paid at the same rate.
Skills required:
Some experience of the wedding industry and wedding blogs/magazines
Marketing and or PR experience
Copy writing
Successful Social Media experience
A warm, kind nature
Self motivated and commercially minded
START DATE: late July
PLACE OF WORK: Foxglove Cottage, Dunchideock, Exeter, Devon, EX6 7YD (free parking) but place of work can be negotiated once the role has been established. I will consider Virtual Assistant applicants.
FEE: £10/hr plus lunch and refreshments are provided if you're working at Foxglove cottage. Fee will be paid monthly on receipt of an invoice.
Applicant needs to be registered as Self Employed.
Please send CV and a covering letter to hello@dewintonpaperco.com by Friday 1st July.
Subject Line: Marketing Manager Applicant – YOUR NAME
Looking forward to hearing from you!